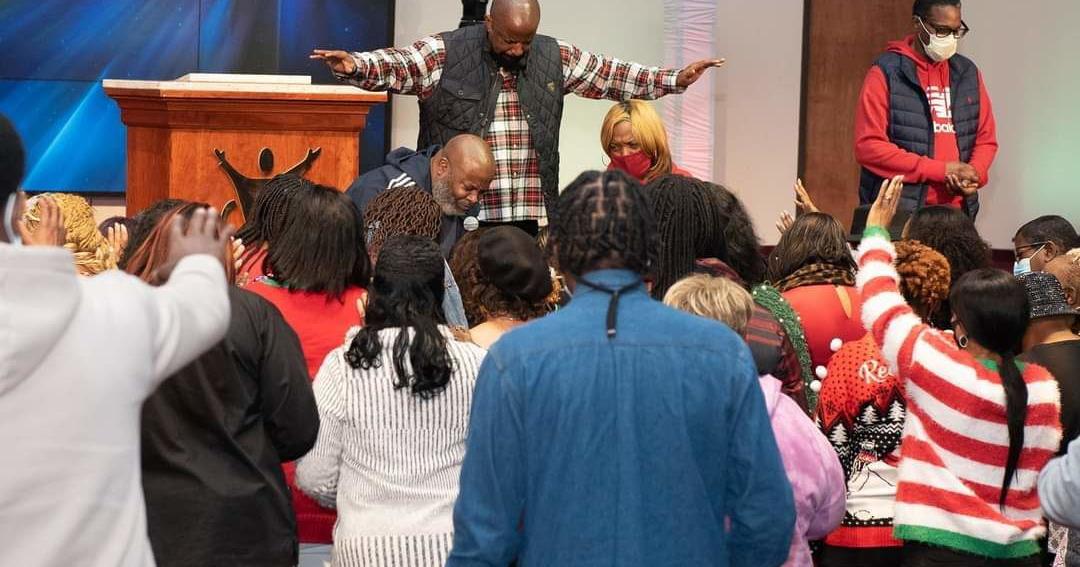 The Church of Christian Compassion | Religion
Pastor W. Lonnie Herndon is committed to uplifting people by showing compassion and bringing resources to the community outside of church walls.
For 28 years, Herndon served as a pastor and began making a difference in the Cobbs Creek neighborhood since the early 1990s.
The Christian Compassionate Church was founded in 1981 by Pastor Leonard Small. Following Small's resignation in 1986, the church was then run by acting pastors until Herndon took over in 1994.
"I came to this church after spending a few years in Hampton, Virginia. Under the leadership of Bishop Dwight Riddick," Herndon said. "I have humbly tried to lead the Church of Christian Compassion so that they can be in their faith and also demonstrate their faith. He challenged me to grow deeper in my faith, and also demonstration. Not only by serving Christ, but through serving Christ, we have also been served.
In April, Herndon hosted a gasoline giveaway which, according to the Chester Spirit, gave away $10,000 worth of gasoline to members of the community for free. Currently, the church offers programs ranging from classes that support children to adults, teens, and job seekers.
"Although the pandemic has been extremely difficult, it is largely behind us. I am extremely proud of the ministry, staff and leadership provided to Christian Compassion during the pandemic. We never stopped serving [the] The community and our church during the pandemic have made great strides, in terms of community impact and also in terms of membership. I am extremely grateful to God and the community and all of the community partners who have helped us to remain a cutting edge ministry during the pandemic," Herndon said.
When asked what makes the church unique, Herndon shared that it's the connection to the community.
"Our purpose, goal and purpose is to have an impact in the community with regards to the socio-economic status of people who have been nested in the Cobbs Creek community. We work hard to make sure we take care of the basic needs of humanity," Herndon said. "And we believe that if we as a church family take care of the basic needs of humanity that sometimes go unmet for various reasons, that will be a bridge to help people understand our scope of faith. "
Two unique and cutting-edge programs include the Church Drone Program and the Summer Reading Enrichment Camp.
"We have a cadet drone program for kids ages 9-16. And then we also have a drone conference, part 107 of the program for 16+ where they can actually get their license to fly drones. Kids are learning to fly, program and build drones," said Pastor Terrilynn Donnell.
According to Donnell, careers in the drone industry are expected to be in high demand for the foreseeable future.
"We try to get them, [young people] in the region, where they can possibly consider this as a career path. And older kids or 16+ can get their license and they can become a drone pilot and from there they can get a job. They can start their own business," Donnell said. "We try to teach them to be honest with the Lord. And we really brought that to our community under the leadership of Pastor Herndon, because we wanted our black and brown kids to experience it.
The church works with Aerial Systems and Michael Johnson. They also plan to bring "Philadelphia Drone Soccer" to the church provided by Shari Williams, known as the drone goddess.
Williams and her husband, State Senator Anthony Williams, have been attending Compassionate Christian Church since the pandemic.
"During the pandemic, we weren't able to go to church like a lot of people," Shari Williams said. "We had another church house we went to, but we resonated a little more with Pastor Herndon.
"We watched church together virtually for about a year," Shari said of herself and her husband. "And then we decided to join the church because we felt so moved by the sermons, the overall experience, and the positive things they were doing in the community. So it was a match made in heaven, and it is so wonderful to be able to worship right here in my own community.
Williams will present "Philadelphia Drone Soccer" this year.
"We're taking him to Philadelphia. We bring it right to our church house," Williams said. "It will fit in perfectly with the current drone program that they have. We're just going to flesh out the program with drone soccer. And I think that's going to be another amazing program that the church has to offer. And so we hope that we engage not only with the young people of the church, but also with the local community.
The church's intensive reading program for the summer will continue through the fall
"Children benefit from individual attention coupled with intensive reading assessments to find out where they are at. Due to the pandemic, some children have fallen behind in their reading level. And we're working really hard to get them where they're supposed to be," Donnell said.
The church has consistently seen an increase in new members and community support.
"I am thrilled to meet new people attending our fellowship for the first time," Herndon said. "Every Sunday we are privileged to attract dozens of people who attend the Church of Christian Compassion for the first time and my goal and my objective and my hope is that they feel the love of God when they walk on the sidewalk, and especially when they cross the doors.
"I look forward to hearing the stories every Sunday of what it was like to walk into a church and be accepted and loved and not judged and to meet friends and family that they never have. never met before having crossed these doors. My heart's desire is for people to know that the Christian Compassionate Church is at the heart of the community, with the community at heart," Herndon said.
The church is located at 6121 Cedar Ave., Philadelphia, Pennsylvania 19143. The in-person Sunday service begins at 9 a.m. and the live stream begins at 8:50 a.m. The teen and child passes are second, third, and fourth Sunday 9:00 a.m. Bible study is held Tuesday through Thursday.