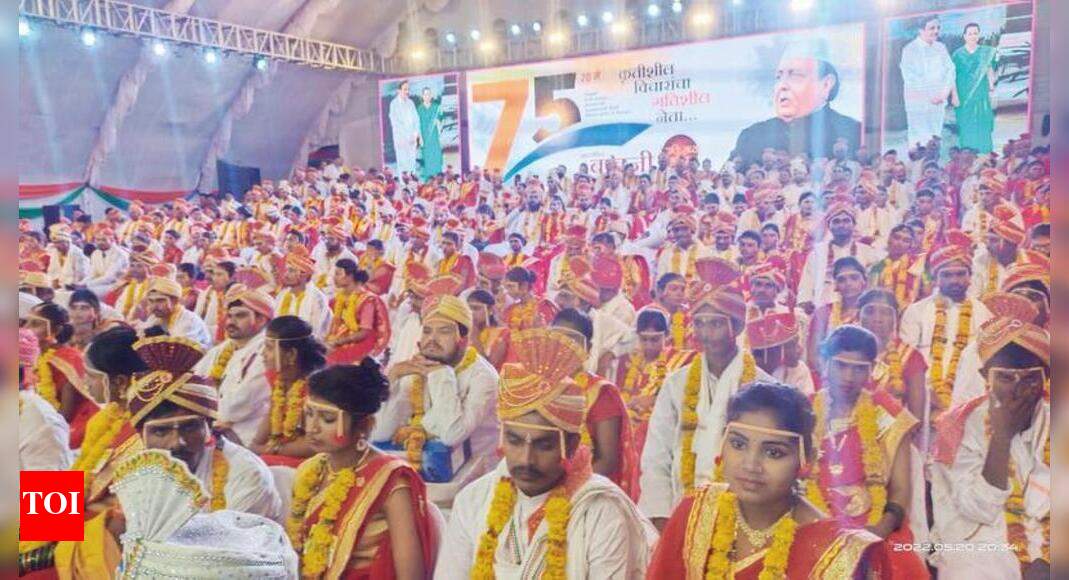 305 Couples Say Their Vows in Multi-Religious Mass Wedding Ceremony in Chandrapur | Nagpur News
Chandrapur: Mangalashtak, panchsheel, holy matrimony and nikah hymns were sung separately in the presence of more than 50,000 guests as 305 couples wed in an unprecedented multi-religious mass wedding ceremony held in the city to mark Azadi ka Amrut Mahotsav.
A total of 162 couples from Hindus, 98 Buddhists, six Christians, two Muslims and 37 from other communities were married at the large hall spread over three acres at Tirupati Balaji Nagari on Friday evening. The ceremony was organized under the joint auspices of the Shri Venkateshwara Swami Temple Trust and its allied charities under the leadership of former MP Naresh Puglia.
The rally was treated to a chappan bhog (56 kitchens) while political bigwigs like former BJP Finance Minister Sudhir Mungantiwar, Congress MP Balu Dhanorkar, MPP Prathibha Dhanorkar and high-ranking netas from political parties welcomed the couples.
The Amrut Mahotsav celebrations kicked off on May 18, with a musical program presented by singer Anand Shinde. Maestro Qawwali Ustad Munnawar Masoom and Rubi Taj entertained the crowd the next day.
The mass wedding celebrations started with a baarat of 305 couples taken from the Shri Balaji Temple to the venue. Later, marriages were performed according to the rituals of the respective religion. The celebrations continued late into the night.