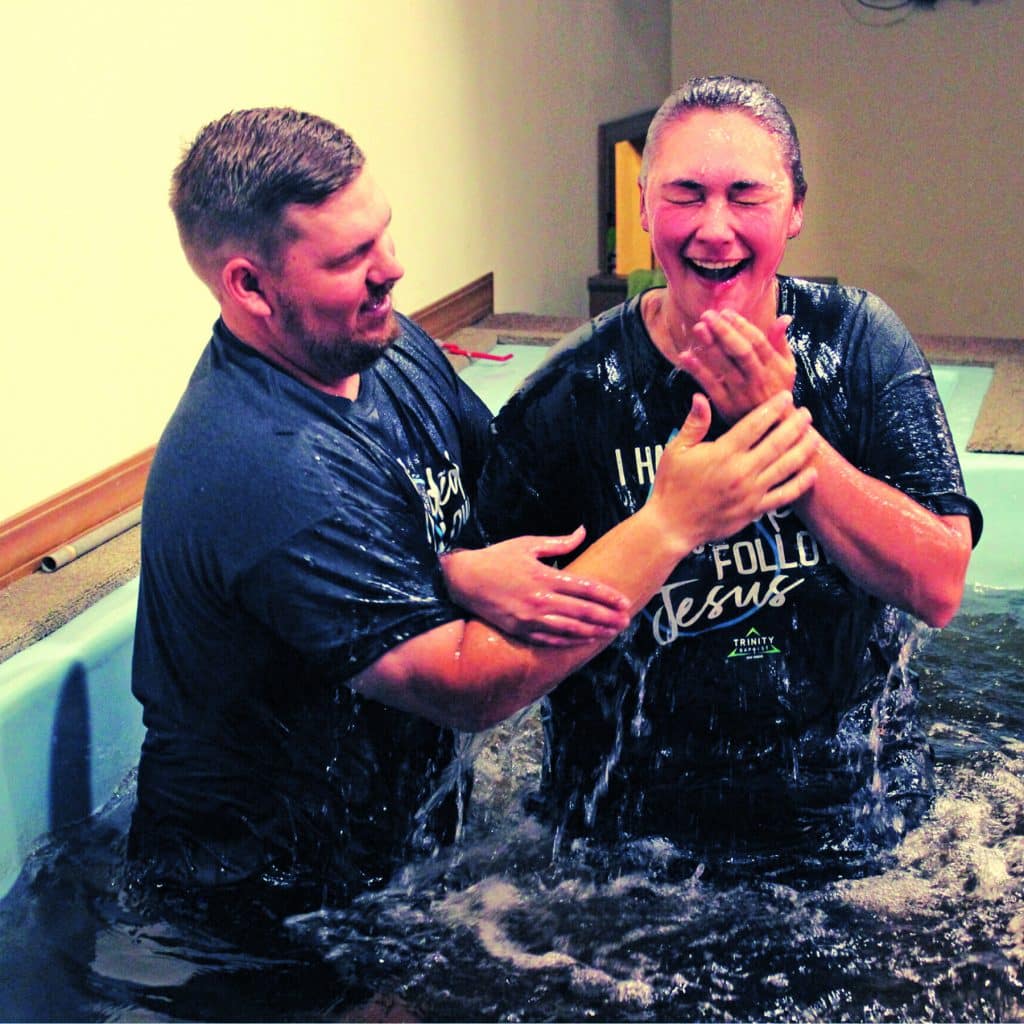 Emphasis on discipleship results in baptisms
By Brian Blackwell, Message Editor
OAK GROVE, La. (LBM) – On her first Sunday as pastor of Trinity Baptist, in February 2020, Courtney Rainey presented a vision to 75 congregants that they could reach and baptize 50 people in one year.
Two years later, the congregation is close to achieving that goal, having baptized 24 new believers since January, while it now averages 135 during Sunday morning worship. By comparison, the church baptized 21 people, combined, in 2020 and 2021.
Rainey told the Message that "when they asked God to intervene in our own lives and in the community" which they had not anticipated, they would see the results "in such a short time". "I've never been part of a movement like this," he said. "We don't just follow the moves. Lives are being changed and it's exciting to see what God has in store for us.
Rainey said the members embraced a discipleship lifestyle that fueled growth, both spiritually and numerically.
Since June 2021, 40 members have gathered on Sunday evenings to make disciples. During the week, four groups of disciples also meet for more accountability and encouragement.
Additionally, several groups saw their participation increase from February 2020, including children (30, an increase from 10) and youth (also 30, an increase from six).
In the remaining months of 2022, Rainey said the church plans to equip even more members for discipleship and evangelism — with the hope of sharing Christ in every home within a two-mile radius. by Trinity Baptist.
"Discipleship not only includes the study of the Word, but also evangelism," he said. "Our goal is to make disciples who make disciples. We want to know Christ and make Christ known.
"If we do what God has called us to do, we will reach a community and change a community for him," he continued. "Renewal is on the way. Through this we will reach the lost in our community.
Church member Matthew Harper said he was grateful for the spiritual influence of Rainey and other godly men in the church, who held him accountable and encouraged him to deepen his spiritual walk . Harper had previously accepted Christ, but was convinced of the need to share his story through baptism on February 20.
"Being at Trinity really put me back on the path God intended for me," he said. "I have responsible partners who help me stay in His Word and are always a phone call away when I need prayers. Having the church family behind me has made me feel more confident and bold in my faith to share with the softball team that my wife and I coach and help them in their walk with God.
"I simply trust in God and His will for the life of my family, as Proverbs 3:5 calls us to do. Having the church community always there for me makes it so much easier to stay strong even in difficult times. I am more than grateful.