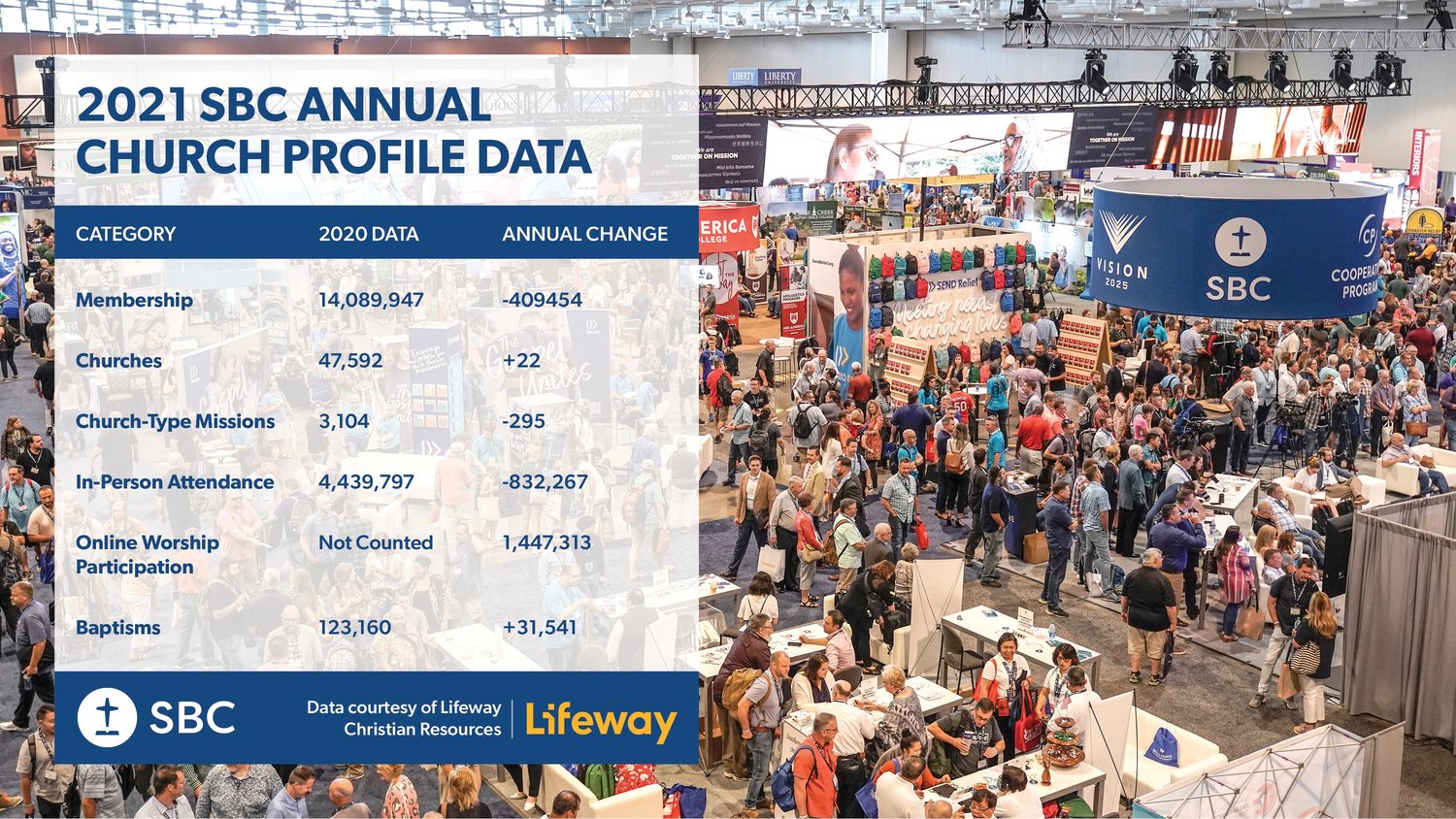 Southern Baptists see baptisms, kicking off in 2021
By CAROL PIPES, LifeWay Christian Resources
NASHVILLE — Southern Baptist congregations saw a rebound in the number of baptisms and a $304 million increase in overall giving in 2021, both encouraging signs that congregations are recovering from the COVID-19 pandemic.
Southern Baptist congregations baptized 154,701 people in 2021, a 26% increase from the 123,160 reported in 2020, according to the Annual Church Profile (ACP) compiled by Lifeway Christian Resources in cooperation with the conventions of the Baptist States. Although baptisms have not returned to pre-COVID levels, Southern Baptist leaders are rejoicing that the numbers are moving in the right direction.
"I am incredibly proud of the local churches that have remained steady in evangelism during the pandemic," said Willie McLaurin, interim president and CEO of SBC's executive committee. "The increase in baptisms shows that pastors and local churches are prioritizing soul winning, evangelism and discipleship. However, as we rejoice in the rise in baptisms, more people still need to hear the life-changing gospel of Jesus.
While baptisms and donations have increased, other key metrics have declined, including membership numbers, average weekly worship attendance, and the total number of Southern Baptist congregations.
The number of churches cooperating with the Southern Baptist Convention (SBC) increased by 22 to 47,614, while the number of church-type missions fell 9.5% to 2,809, bringing the total number of congregations to 50 423. This is the fourth consecutive year of decline in the total number of congregations after a peak of 51,920 in 2017. Multi-site congregations reported 575 campuses where additional local church ministry is taking place.
Membership in Southern Baptist congregations continued its long-term decline with a 3% decline from 14,089,947 in 2020 to 13,680,493 in 2021.
Attendance decreases
Two years after COVID-19 caused closures and delayed the reopening of worship services and other church activities, Southern Baptists are finally seeing the full impact of the pandemic on in-person attendance. Average weekly attendance for in-person worship fell from 4,439,797 in 2020 to 3,607,530 in 2021, a decline of 18.75%. And average attendance for in-person Sunday School, Bible study and small groups fell from 2,879,130 ​​to 2,241,514, a drop of 22.15%.
"We suspected the 2020 CPA statistics did not show the full impact of COVID-19 on attendance," said Scott McConnell, executive director of Lifeway Research. "Each year, we ask congregations to calculate attendance averages for the weeks they meet in person. Churches that met only in person before the pandemic in 2020 reportedly reported average weekly attendance for those weeks. Many churches started meeting in person again in 2021 and only then did they see a drop in attendance related to the pandemic.
"It's not fun to document difficult seasons in ministry, but we know that God is as faithful today as he ever was. And these statistics continue to show the faithfulness and sacrifice of congregations during difficult times. »
Join online
For the first time in CPA history, churches were asked to include data for online worship and group participation. Southern Baptist congregations reported 1,447,313 average weekly online worship attendance and 198,122 average Sunday school/Bible study/small group attendance.
"Many churches have started sharing their worship services online during the pandemic," McConnell said. "While some may only continue this practice until it is safe for all to return, others have made it an ongoing part of their ministry or outreach."
Donations and mission expenses increase
Total church revenue, unrestricted revenue, total mission expenses, and large commission giving all increased in 2021. Total church revenue reported by the CPA increased by 2.6 % to reach $11.8 billion. Undesignated church revenue rose 2.6% to nearly $9.8 billion.
Congregations reported total mission expenditures of $1.1 billion and large commission giving of $516 million.
"Increased generosity among churches is a highlight of the church's annual profile. Increased giving through the local church has accelerated our unified Great Commission efforts to mobilize more missionaries and plant more churches," McLaurin said. "For 97 years, Southern Baptist churches have maintained consistency in cooperative program giving, and the increases we are seeing in baptisms and giving are reasons for us to pause and thank God for His faithfulness. ."
Donations through the SBC Cooperative Program are not included in the CPA Statistical Summary. These totals are available through Baptist state conventions and the SBC executive committee that processes mission donations.
Reports
Seven in 10 Southern Baptist churches participated in CPA 2021 reporting at least one item on the profile, up 1 percentage point from the 69% who reported last year, but still well below 75% who declared in 2019.
Totals for various CPA categories were affected by the fact that not all state conventions asked congregations for all of the information in a way that would allow for proper year-to-year comparisons. The affected categories and their totals for 2021 include:
Total number of members: 13,680,493
Other membership additions: 124,356
Average weekly online worship attendance: 1,447,313
Online Sunday School/Bible Study/Small Group Average Attendance: 198,122
Non-designated revenue: $9,774,807,128
Total receipts: $11,830,303,965
Total mission expenses: $1,119,075,812
Excellent commission rebate: $516,093,240
The ACP is compiled by Lifeway Christian Resources in cooperation with Baptist State Conventions. Individual congregations voluntarily report their ACP data to their local Baptist associations and/or state conventions. National statistics are compiled and released when all cooperating state conventions have reported.
See a state-by-state table of statistics here.
__
Carol Pipes is director of corporate communications for LifeWay Christian Resources.