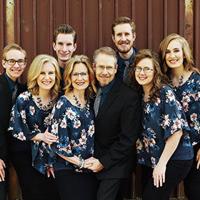 The Garms Family to Perform at Harrisville Congregational Christian Church | Entertainment
For more than a decade, the Garms family has performed everywhere, from historic auditoriums to a makeshift barn stage. Every year, the family puts thousands of miles on their motorhome. This year, this RV will bring the family to the small Randolph County community of Harrisville.
On Sunday, March 13 at 6 p.m., the Garms family will perform at Harrisville Congregational Christian Church. The church, which was organized in 1865, is located just north of State Road 32, halfway between Winchester and Union City, on County Road 500 East. "We've had them here a few times in the past," said Pastor Coleman Smith. "We had packed houses the two times before, people came from as far away as Chicago to hear them," he continued.
The Garms family is made up of parents David and Kris Garms, along with their sons and daughters, Ben, Taylor, Leesha, Sam, Jayme and Caleb. None of the six siblings took instrumental or vocal lessons. Singing hymns in the family living room became a performance with over 15 instruments, recording eight CDs and touring full time across America. Guitars, piano, drums, violin, banjo, double bass, dobro and mandolin constitute the core of the group. All members are skilled singers, from soprano to deep bass, and they often change lead to form trios and quartets.
The Garms family refer to their music as "acoustic Christian". People who love Southern Gospel and Bluegrass love their style. With harmonies of up to five parts and over 15 instruments, their concerts are a musical journey for the whole family. Between the songs, the Garms family weaves the Word of God, the Gospel, and their own stories of God's goodness when life has been difficult.
The family's musical journey began in 2006. After a year and a half of traveling across the country to help build churches, they settled in Minnesota. The children were interested in Civil War history, and the family enjoyed singing at home and attending gospel concerts. People sometimes asked them if they sang, and they said no.
Over the years, homeschooled children learned to play instruments and the desire to share their music outside the home grew. In 2008, a promoter asked if they could sing, and the family said yes. He asked them to open a concert. Soon word began to spread about this young group.
Since then, things have continued to snowball for the Garms family. The days of cramming everything into a van are spent traveling the country in a comfortable motorhome. When they're not traveling the country performing their music, the Garms family now call Wisconsin home, where they're renovating a former schoolhouse into a concert hall, recording studio, and residence.
For those who would like a preview of what to expect in Harrisville on March 13, the family is hosting a series of free concerts called "Sunday Nights of Encouragement" which are streamed live on Facebook and YouTube.