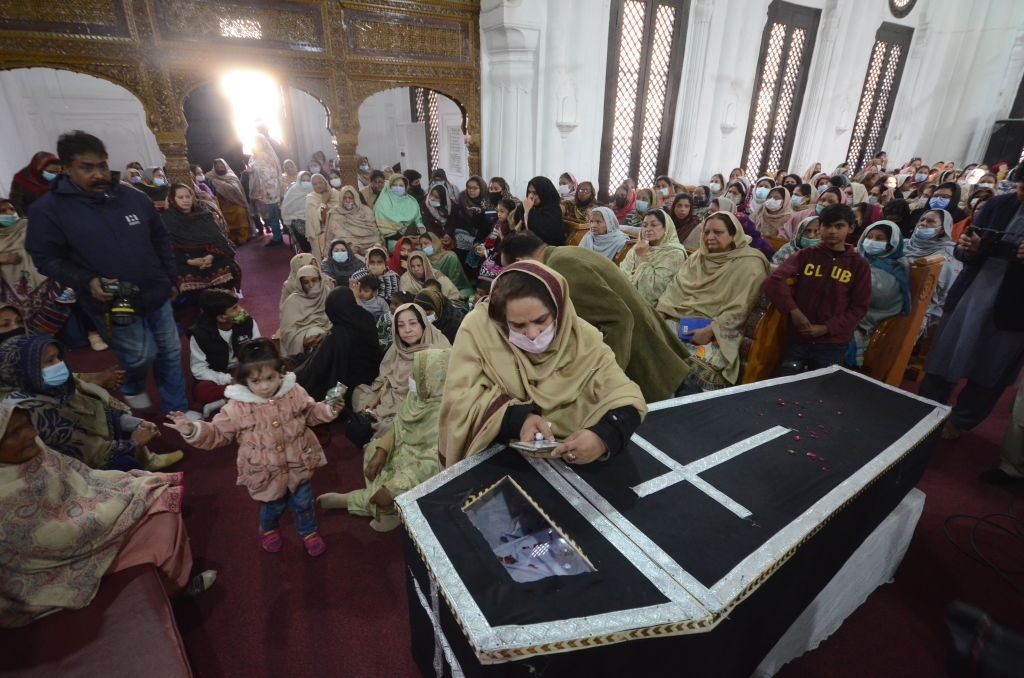 The murder of a priest reignites fear in the Christian community
PESHAWAR: The killing of a Christian priest in Peshawar has reignited fear among local parishioners and brought back painful memories of one of the country's bloodiest attacks on the community in the capital Khyber Pakhtunkhwa.
armed men shot and killed Pastor William Siraj and injured another Christian cleric, Naeem Patrick, as they returned home from Sunday service at a small church on the outskirts of Peshawar.
"We felt insecure [even] before that. The feeling of insecurity increases when these kinds of incidents occur," said Naqqash Bhatti, a close associate of Siraj. Reuters at the funeral of the slain priest on Monday.
The service, attended by hundreds of mourners, was held at the colonial-era All Saints Church in Peshawar – the site of a double suicide bombing that killed dozens of worshipers in 2013.
Following the bombing, a small Christian community set up a small, inconspicuous church on the outskirts of Peshawar in 2014 – and named it "Martyrs of the All Saints Church" in remembrance of the attack.
Siraj was targeted just after attending Sunday mass at the Memorial Church, which is tucked away in a crowded brick-walled lane surrounded by the modest homes of the local Christian community – many of whom moved there after the 2013 suicide bombing.
The intimate community and memorial church served as a comfort zone for many who lost friends and family in the suicide bombing and struggled to move on with their lives.
"We are poor people and we work late into the night in town and then come home quite late at night," said Waheed Masih, 36, who lives opposite the church, where Siraj was a regular.
"The slaughter […] has caused panic and no one wants to leave their house because of fear and terror," he added.
No one has yet claimed responsibility for the attack on Siraj, but it comes amid an upsurge in militant attacks in Pakistan, particularly along the western border with Afghanistan.
Protestant Bishop Humphrey Sarfaraz, who also attended Siraj's funeral, said Reuters he had asked the region's top police official to organize more security for Christian clergy and to step up patrols for Sunday services.
Police have expanded their manhunt for two unidentified assailants after provincial police chief Moazzam Jah Ansari ordered investigators to use all available resources to secure the arrests of the perpetrators.
Hina Jilani, chairperson of the Human Rights Commission of Pakistan (HRCP), on Monday condemned the killing, saying the commission considers the attack "a flagrant assault not only on the Christian community in Pakistan, but on all religious minorities whose right to life and security of person remains constantly threatened".
She asked for more measures for the protection of minorities.