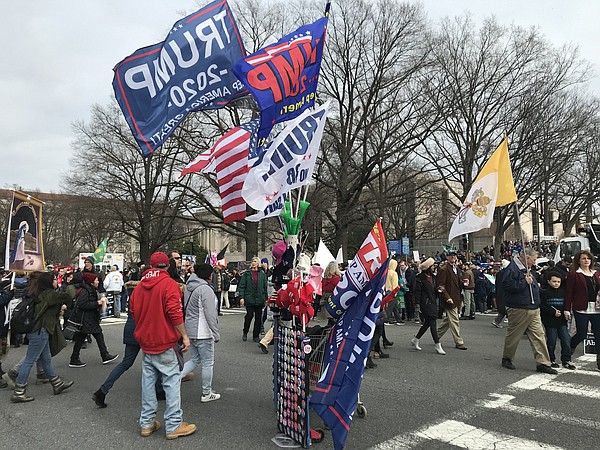 How Abortion and Religion Intertwine
When the United States Supreme Court legalized abortion in all 50 states, it sparked a religious realignment that continues to unfold, nearly half a century later.
Catholics and white evangelical leaders, divided by doctrine and suspicious of each other for much of the country's history, found common ground in opposing the liberalization of national laws on the abortion.
At first, the Roman Catholic Church, almost alone, led the fight. Eventually Southern Baptists and Pentecostals would join them, along with millions of other conservative Protestant Christians.
The role of faith is evident at the annual March for Life in Washington, with some marchers carrying banners identifying their religious affiliation or their diocese or regional chapter of the Knights of Columbus.
A few even carry the yellow and white Vatican flag.
Proponents and opponents of abortion rights find few points of agreement. But both sides recognize the important role the faithful played in mobilizing opposition to Roe v. Wade and in restricting abortion in dozens of states.
Rose Mimms, executive director of Arkansas Right to Life, said local volunteers from Catholic and evangelical churches have been "essential" to her team's success in Arkansas and across the country.
"The basis of the pro-life movement is believers," she said.
Nonetheless, Arkansas Right to Life "is not a religious organization because we welcome anyone who agrees with us and wants to help us protect life."
ANTI-ABORTION AND RELIGION
Jamie Manson, president of Catholics for Choice, takes issue with the role Catholic bishops have played in obstructing abortion rights.
Faith-based arguments that began decades ago still continue, she said, adding, "Religion is the reason for the debate."
Churches have been successful in mobilizing young anti-abortion activists and helping them attend anti-abortion events, said Manson, whose Washington-based nonprofit group supports abortion rights.
When the gatherings take place, "often it is students from Christian schools and Catholic schools [who attend]. Their schools or their diocese pay for them to be transported there by bus. … They find them accommodation and they pay for their meals and he is the one who comes to the meetings."
The National Committee for the Right to Life, which describes itself as the nation's largest and oldest grassroots anti-abortion organization, was founded in 1968 by the National Conference of Catholic Bishops.
He ended up splitting up, a move that helped him gain wider Protestant support.
Initially, the opinions of Baptists and Southern Catholics on abortion were very divergent.
In 1971, messengers to the annual meeting of the Southern Baptist Convention in St. Louis passed a resolution calling on Southern Baptists "to work for legislation that will allow the possibility of abortion under conditions such as rape, incest, clear evidence of severe fetal malformation, and carefully determined evidence of the likelihood of damage to the emotional, mental and physical health of the mother."
HISTORY OF ANTI-ABORTION
The Assemblies of God initially had little to say on the subject. Today, he takes an unambiguous position in favor of stricter abortion laws.
At first, "It was the Catholics who stood their ground and said, 'This is wrong, and we're going to do everything we can to fight this,'" said Mimms, a member of Notre-Dame Catholic Church. Lady of Fatima looking Bent Over.
Eventually the Southern Baptist Convention came to oppose Roe v. Wade. And a former Southern Baptist minister, Mike Huckabee, was going to sign anti-abortion legislation in Arkansas as governor.
"That was the major change, when Mike Huckabee became our governor," Mimms said.
"For the first time ever, we had a pro-life governor come to us and say, 'What can I do to help… get pro-life laws passed, and would even include our bills? in its legislative package,'" she said. "It was huge."
In an email, Huckabee said Catholics were leading the fight long before Protestant Christians joined them.
"We are indebted to our Catholic brothers and sisters for raising this issue and… [for] keeping it front and center," he wrote. "The Evangelicals did not arrive until the [19]80 years."
Southern Baptists who joined the anti-abortion movement in the late 1970s faced opposition within their own denomination, he noted.
"At the time, we were considered marginal because of the very strong opinions [we held] about the sanctity of life," he said.
Finally, "general Evangelicals and Southern Baptists[s] in particular began to realize that this was not a political issue but a moral and biblical issue," Huckabee added.
Jerry Cox, founder and president of the Arkansas Family Council, says Catholics have played a crucial role in mobilizing opposition to abortion.
"Catholics, of course, have been pro-life since long before Roe v. Wade. Their position on abortion, I think, was very clear," he said. "Protestants and Evangelicals were a bit behind the game."
Over the years, the anti-abortion movement has been bolstered by the participation of evangelicals, Mimms said.
"They joined us and we're happy to have them," she said.
VIEWS OF CATHOLICS
A 2019 poll by the nonpartisan, nonprofit Pew Research Center illustrated the importance of evangelicals to the movement. See tinyurl.com/mr29wnbv.
Seventy-seven percent of white evangelicals said abortion should be illegal in all or most cases, while 20% said it should be legal in all or most cases.
Among self-identified Catholics, 56% said it should be legal in all or most cases, while 42% said it should be illegal in all or most cases.
However, the survey showed a chasm between regular Catholic worshipers and those who attend less often or not at all.
Sixty-seven percent of Catholics who said they attend Mass every week or more said abortion should be illegal in all or most cases. Only 32% of Catholics who attend for less than a week share this view, according to the survey.
A 2018 Gallup poll, which phrased the questions differently, showed that 22% of Catholics believed abortion should be legal in all cases and 22% that it should be illegal in all cases. A majority, 53%, said it should only be legal "in certain circumstances". Another 3% were undecided. See tinyurl.com/35pb84eh.
Bettina Brownstein, a cooperating attorney with the American Civil Liberties Union of Arkansas, has successfully challenged several of the state's anti-abortion laws over the years.
Asked about the opposition the abortion rights movement is facing in that state, she said, "I think it's religiously motivated. They're all fundamentalist Christians and Catholics."
THE POSITIONS OF OTHER FAITHS
Black Protestants, white mainline Protestants and people unaffiliated with religion tend to favor abortion rights, the Pew Research Center poll showed.
Brownstein, who is Jewish, said anti-abortion activists use the law to impose their religious beliefs on others.
"Traditional Judaism, you know, disagrees with this anti-choice stance," she said. "In this sense, we feel that our religious freedoms are restricted and not respected."
Had only Catholics been involved in the fight, the anti-abortion movement would have been far less successful, Manson said.
"Until the 1970s, [evangelicals] were much more focused on heaven and the next life or the world to come and not too worried about this world," she said. "When evangelicals woke up and got involved politically, it just infused this incredible amount of energy [and] of money behind the movement. It supercharged him, really."
As the U.S. Supreme Court weighs the constitutionality of a Mississippi law banning most abortions after 15 weeks, Mimms hopes Roe v. Wade will soon be canceled.
It would also allow sweeping restrictions on abortion to take effect in Arkansas.
That would be a huge victory for anti-abortion forces, but it won't be the end of the debate.
Even if abortion were banned in Arkansas, "there will be states where abortion will be available and Arkansas women will go there to have abortions, some of them," Mimms said. .
For Mimms, her Christian beliefs and her anti-abortion activism are intertwined.
"We have an inherent dignity given to us by our Creator," she said.
"I don't let discouragement and frustration and all of that get me down because I know the importance of it," she said. "My faith is what brought me to this movement [and] keeps me in this movement."