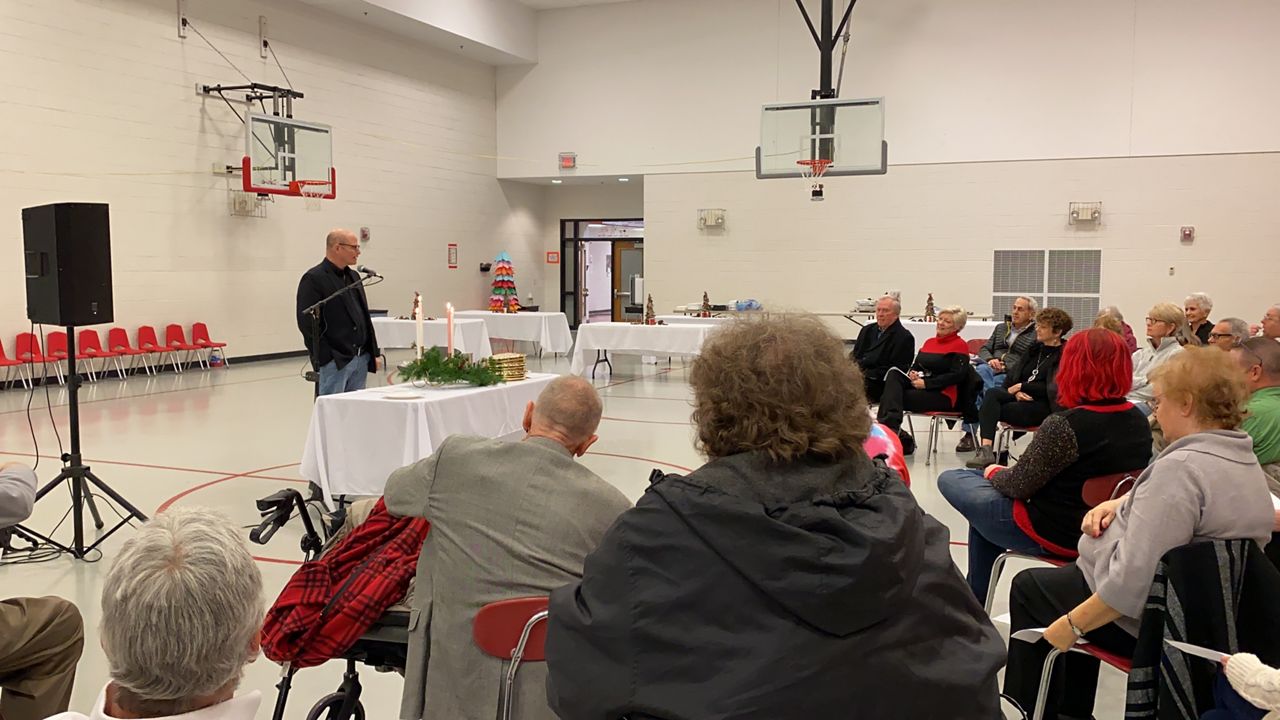 The First Christian Church has a Sunday Service at MES
MAYFIELD, Ky. — The First Christian Church in downtown Mayfield was completely destroyed, leaving parishioners to worship in a parking lot Dec. 12.
Just a week later, parishioners were able to hold their Sunday service at Mayfield Elementary School. The church has received over $100,000 in monetary donations to rebuild their church and create new memories.
Attending First Christian Church has a new look every Sunday. The church is working on a more permanent place to call home, but for now they are to worship anywhere with a roof over their heads. Dr Milton West has served as the church's senior minister since 2019.
"If you're grieving and I know you are. Your emotions about the church, and not just that, but also about our city, are going to be everywhere, they really are," West said.
Dec 12 Chief Minister Dr Milton West led the parishioners for parking service, it was emotional for all who came. A week later, the service is held at Mayfield Elementary School, a building many parishioners have not been to since elementary school. Mary-Beth Pittman has been a parishioner of the First Christian Church since she was a baby, she is now a deacon of the church. Pittman lost his home in the EF-4 tornado and now lives with his cousin.
"I'm a very emotional person about this stuff, after losing everything I had. But I know I have a loving minister and his wife," Pittman said.
Churches across the United States called to ask West how much money was needed to rebuild, even some within walking distance in Indiana.
"And I think there's no right answer to that question, so I said I didn't have an answer. He said 10,000 would be OK? I said what do you want us to do with it? He said do what the Lord asks you to do. Some of the money we received we have to donate to tornado relief in our area, which our leaders will sit down and figure out. We largely have to rebuild the building," West said.
Attending a church service in a building that is not your church stirred up a lot of emotions among parishioners, as it was the second Sunday since the tornado. Many parishioners lived close to the church, which reminds them every day of the devastation.
"I was afraid to come to assistance last Sunday because I had been there twice. They say three times is a charm and it wasn't a charm for me, so I went to my cousin's church. I didn't really want to go out, but they made me go out and do something," Pittman said.
Mayfield First Christian Church is asking parishioners if they have any damage to their homes to notify ministers so they can be of assistance.