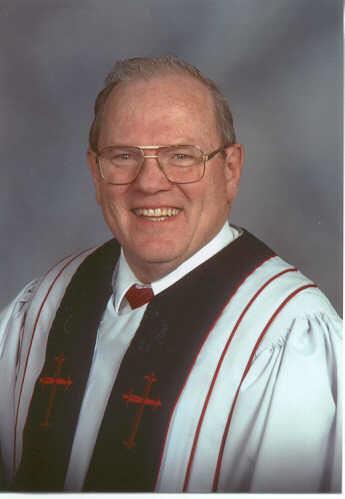 Jumper settles down with First Christian Church |
Something about Vinton jumped out at Richard Jumper. He and his wife Dana were looking for a new place to settle and Jumper to preach. When he heard of the town's First Christian Church, information was quickly exchanged and an interview was arranged.
"One of the key things for me is whether I can get along with the congregation and how well our personalities fit in," Jumper said. "Each church has its own personality. Everything seemed to match. They had me come and preach on a Sunday morning. We hit it off after that and I started in May.
Born in St. Louis to be an undertaker, Jumper lived much of his life in Bloomington, Ill. And worked for the General Telephone Company (later Verizon) until he decided to became a pastor 23 years ago. The Jumpers moved to Cedar Rapids in May and have been commuting ever since. He also has office hours at Vinton in addition to his Sunday services.
"We love to get to know Vinton," Jumper said. "It's definitely a different pace compared to the Bloomington metro. "This particular congregation tends to be very blue collar. I don't necessarily call them old people, but there is a lot of gray hair out there. Lots of nice people.
Jumper said his sermons tend to be Bible-based, down-to-earth, and nothing "highfalutin". He has spent the last month and a half getting to know the members of the church and letting the congregation get to know him. It will be officially installed with First Christian Church next week.
"It's like a date," Jumper said. "It's fun, but it can be a little stressful. We continue to get to know and learn from each other. We hope to move to Vinton one day and be more of the community. I'm sure we can go over the moves, but we really want to do our job well and you really can't do that until you're part of the community.
With Vinton reopening as the COVID-19 pandemic abates, Jumper has noticed that more and more people are enjoying their summer with travel and vacations. He plans to "chill out" for now in terms of events and "do a big push" in the fall. Continuing to listen to members of the congregation is a priority for Jumper and he believes his introduction into the community is going "smoothly" as he nears two months with the church.
"Getting to know people excites me the most," Jumper said. "We have friends from central Illinois who live here. Having this knowledge made the move really enjoyable. We knew a little what to expect here and were able to renew an old friendship.
The First Christian Church holds Sunday services at 10:15 a.m.