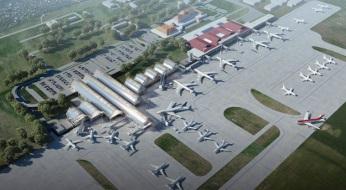 Mactan-Cebu Airport operator and lenders reach agreement on debt easing and rebalancing
GMR-Megawide Cebu Airports Corp. (GMCAC), the operator of Mactan-Cebu International Airport (MCIA), announced on Friday that it had signed an agreement with its creditors to rebalance its debt service commitments and relax restrictive covenants.
In a disclosure to the Philippine Stock Exchange, GMCAC's parent company, Megawide Construction Corp., said the deal was associated with the outstanding loan of 23.9 billion pesos at the end of 2020 to fund project contracted to develop, operate and maintain the MCIA.
GMCAC is a consortium between Megawide and the Indian group GMR formed to manage and develop MCIA for the next 25 years.
GMCAC's lenders are made up of the country's largest banks, namely BDO Unibank Inc., Philippine National Bank, Bank of the Philippine Islands, Development Bank of the Philippines, Land Bank of the Philippines and Metropolitan Bank and Trust Company, as well as the Development Bank.
BDO Capital also acted as financial advisor in connection with the transaction.
Based on the terms of the final agreement signed by the two sides, the exercise will temporarily "release" around 3.6 billion pesos in cash from 2021 to 2023 and strengthen GMCAC's financial position, "which can be used for support operations while the ongoing pandemic limits air travel. "
Likewise, principal payments will be postponed to the period 2027 to 2029, based on the Renewed Omnibus Loan and Guarantee Agreement (OLSA), when the travel industry is expected to have fully recovered from the adverse effects of the COVID-19 pandemic.
"We are happy that the negotiations with our lenders have been finalized and we express our most sincere gratitude to our financial partners, who since the very beginning of this pandemic have been very united. The agreement is a strong sign of support and confidence in the Megawide airport business model. The more flexible debt service schedule will give our airport operations a clearer track for full recovery once things return to normal, "said Edgar Saavedra, President and CEO of Megawide.
As the pandemic wreaked havoc on the travel industry, Megawide said the GMCAC has officially requested a 30-day grace period to service its six-month debt from December 15, 2019, due on December 15, 2019. June 15, 2020, as provided for in the Bayanihan law.
The lenders unanimously approved the request on June 11, 2020, he added.
With travel continuing to be limited, Megawide said GMCAC requested a further extension of the settlement until September 2020, which GMCAC duly paid on September 15, 2020, including additional interest on principal and accrued interest on September 15, 2020. June to September 15, 2020.
On December 11, 2020, GMCAC sent notifications to its lenders to defer its principal and interest payments due December 15, 2020 to February 15, 2021 as the pandemic escalated.
On December 15, 2020, GMCAC received a response from the lenders unanimously approving the request.
"From the start, our lenders were very accommodating and observed the true spirit of Bayanihan. They have truly exercised their sworn mandate as intermediaries between sources and users of capital, since they have collectively consented to our requests on all occasions. We are very grateful to our lenders for initiating further discussions to resolve all issues and conclude a larger and mutually beneficial agenda for all parties, "said Ramon Diaz, CFO of the Megawide Group.—AOL, GMA News