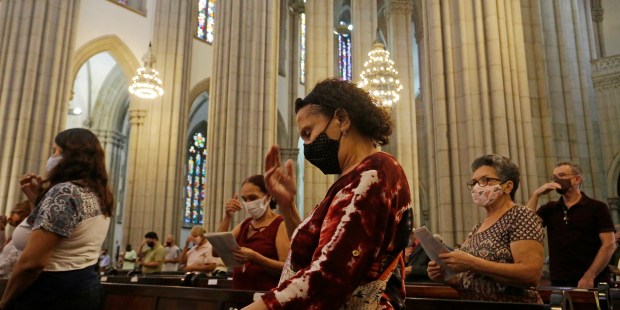 3 Simple S's to Getting the Christian Community You Want – and Need
Saint Paul makes it clear that Christian discipleship requires a Christian community.
"Good preaching is like mortal sin: both require serious matter, sufficient thought, and the full consent of the will – neither happens by accident. It may be inappropriate to quote me (the preceding sentence is taken from my book on preaching called, I have someone to tell you), but I do so here to draw an analogy to facilitate our ongoing reflections on the Christian community.
The Christian community does not happen by accident– many deliberate choices are necessary to prepare for it, initiate it and support it. Likewise, it requires a "serious matter", that is to say that the Christian community is not a simple option or an accessory, not a "good to have"; it is a "must". Likewise, the Christian community requires "sufficient reflection", that is, a clear understanding of what the Christian community is and is not. It is not a social club or a support group; it is a communion of the baptized help sinners like you and me become saints.
As I write this, I remember Mark Twain's joke about time: "Everyone complains about the weather, but nobody ever does anything about it. Just lip service to praise the community will not be enough. "Wouldn't it be nice if Catholics would welcome newcomers, look for the lost and lonely, talk to each other after Mass and not try to crash out as they rushed out of the parking lot on Sunday? A conversation about the Christian community that includes the words "wouldn't it be beautiful" is doomed to failure.
Let's talk about the "why" of the Christian community, then "how" and finally, let's talk about "what happens if we don't do it".
Christ told us to go out and make disciples. (Matthew 28: 19-20) It is irrational to think that it is enough to baptize disciples and then forsake them. Saint Paul in 1 Corinthians 12 speaks of Christians united as members of one body; Saint Peter in 1 Peter 2 speaks of Christians united as "living stones" with Christ as the crowning stone. Christian discipleship demands the Christian community.
How can we make it happen? Let us avoid the bureaucratic temptation to create a committee, program, task force or whatever. Instead, let's remember the S's in "Simple, Scriptural, and Sunday." Get together with a small group once a week, even for just an hour, to pray for the upcoming Sunday scriptures. (There are many good Catholic Bible commentaries available; the most recent edition of Benedictus Magazine or Magnificat Magazine may suffice.) Go to mass together, then meet afterwards to discuss the homily and what God is about. done in your life these days. That's it.
How do I know it can work? Because a group of friends and I met every Thursday night for six years and went through this three-step cycle; I only left the group when I joined the Society of Jesus. Along the way, we deepened our knowledge and our love of Christ, of the Mass, of the Scriptures and of one another. We have walked through the liturgical year – Advent, Christmas, Lent, Easter, Pentecost and beyond – year after year, and over time we have been able to see where we have progressed and where we have lost ground as we struggled together to be disciples of Christ.
What happens if we don't? As the saying goes, "If you only do what you do, you will continue to get what you get. Even before the COVID interruption, we knew that the routine of "going to Mass unprepared, leaving Mass without conviction, living the week unconverted" just wasn't working, even though we couldn't name it. problem, let alone offer an alternative. Over the past year, we have learned that Christian communities are essential for worthy worship, for the transmission of the faith, and for bringing together natural and supernatural resources to perform bodily and spiritual works of mercy. If we don't do it together, it is unlikely to happen.
But it is not enough to say that. If we don't, if we don't honestly strive to take even simple steps to foster Christian fellowship, then our children will come to the right conclusion that Christian discipleship means little to us. It would be a terrible lesson to impart to our children, even unintentionally, and God will take note of it.
Once you've finished reading this, find the readings for next Sunday's Mass, make a list of three friends, and then start making phone calls. If you are not prepared to do so, then I ask you to complete this sentence: "Christian fellowship is not necessary for me because …"
Next time I write, I will continue these reflections on the Christian community. Until then, let's keep each other in prayer.